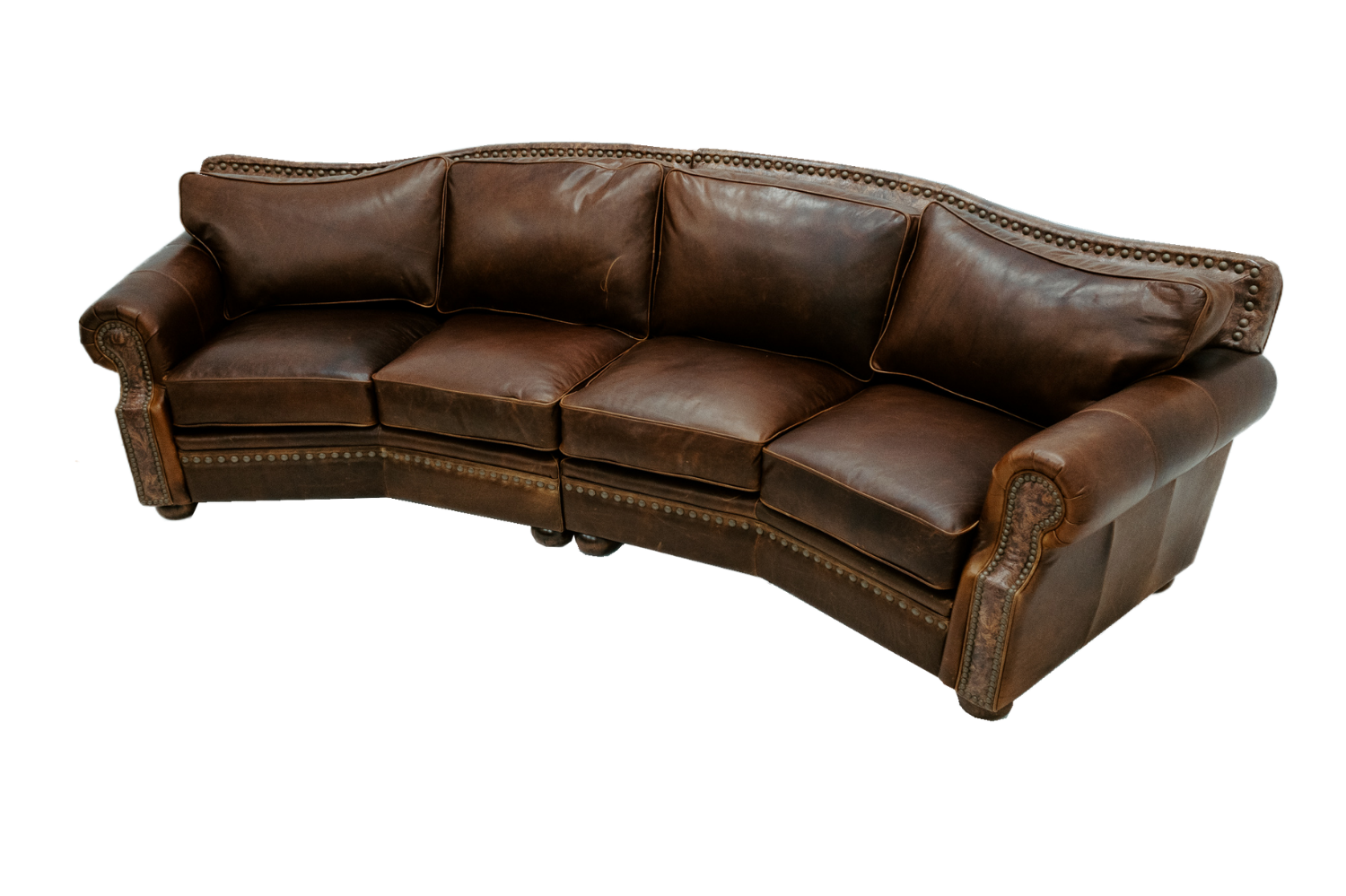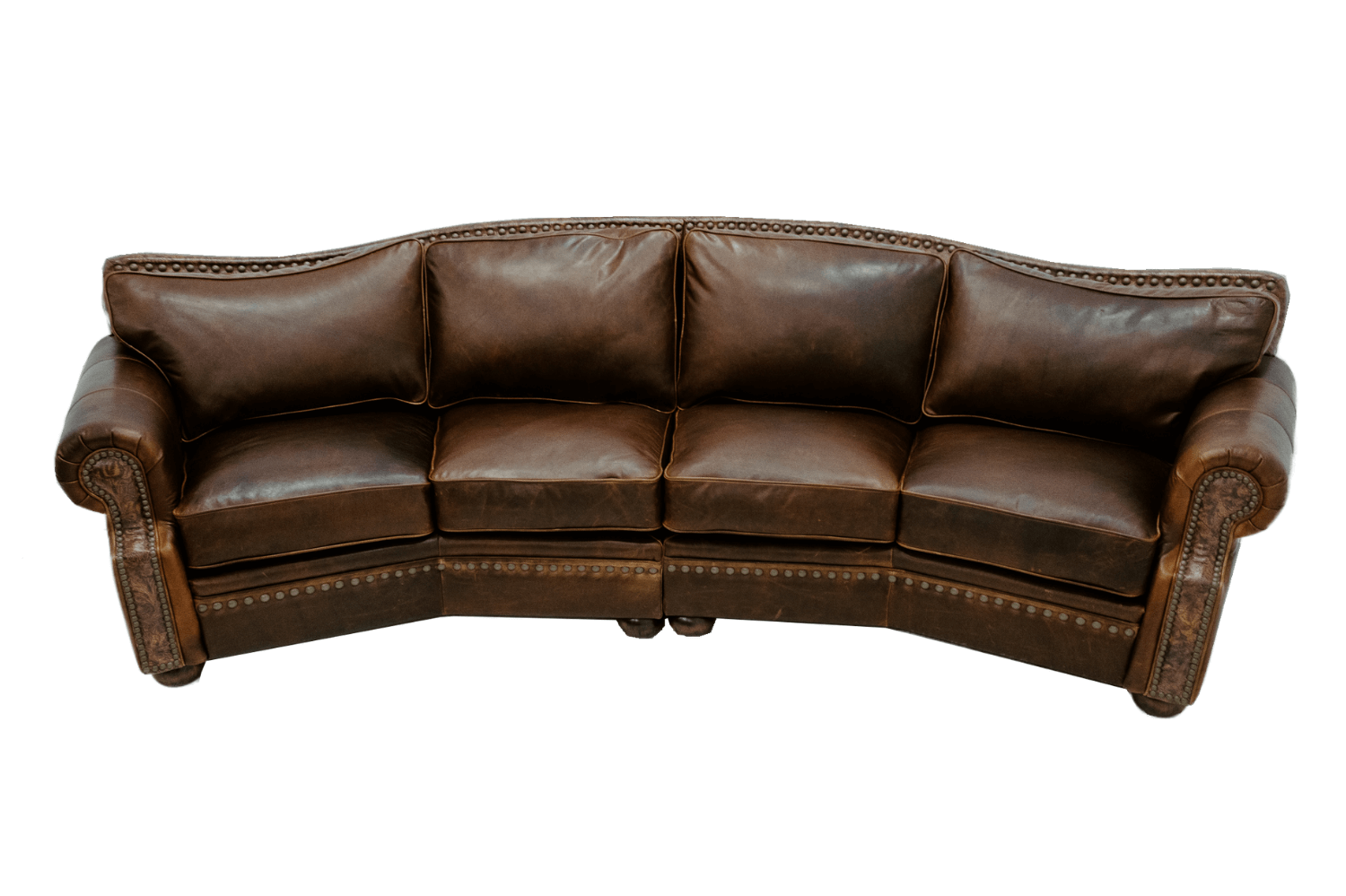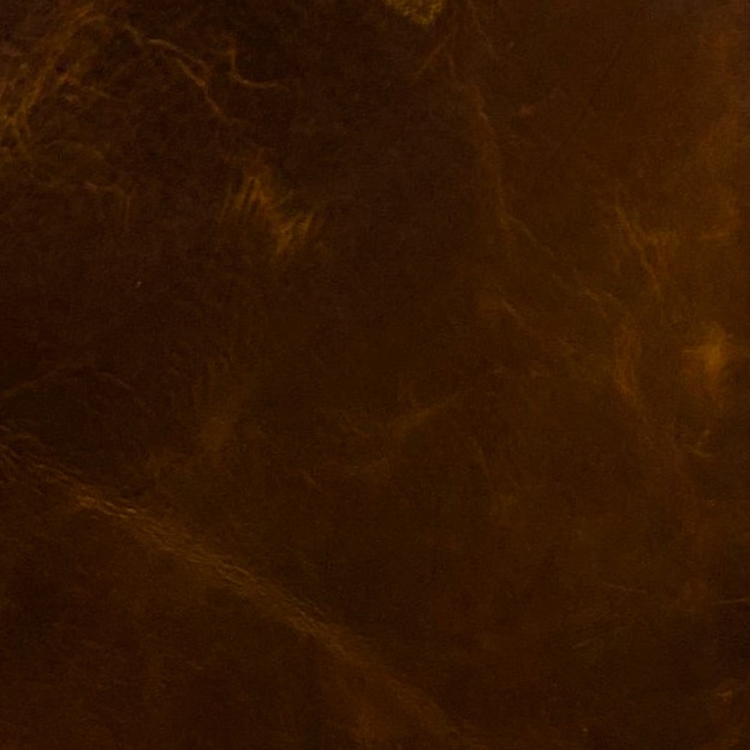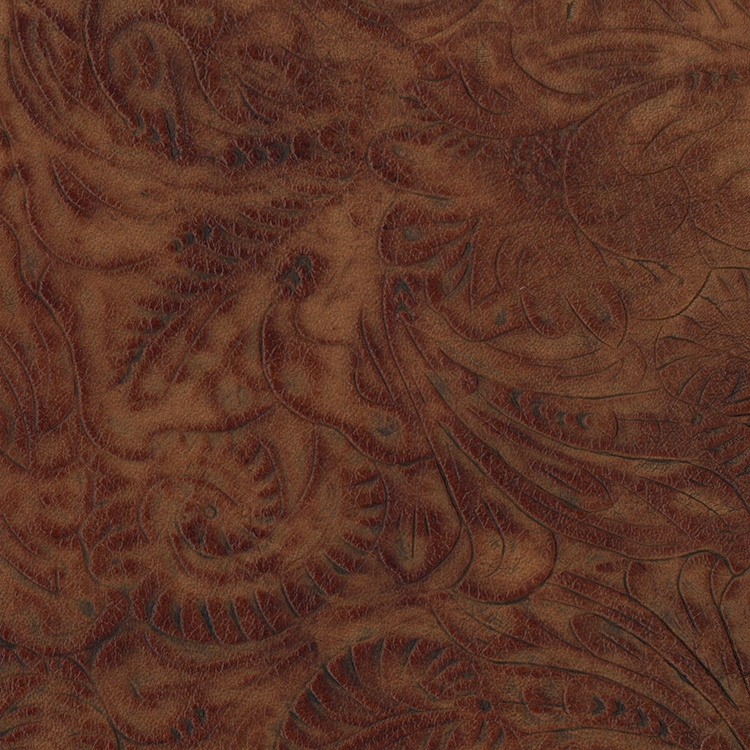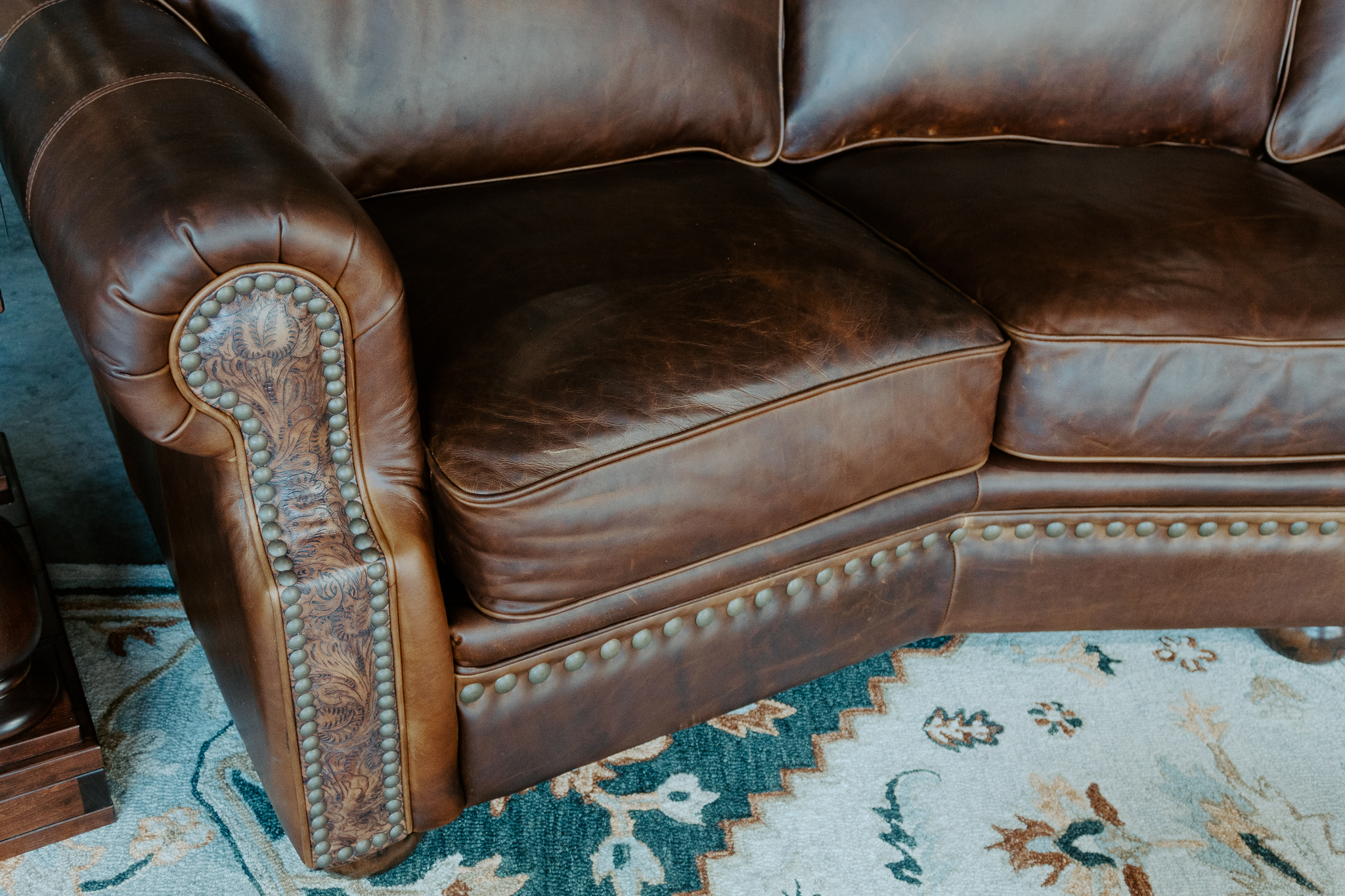 About this Product
The curved Laredo Conversation Sofa is made up in Polo Club Bourbon, a full grain leather with an oily wax pull-up finish, and it is accented with a tooled Tropicana Moccasin designer leather to add unique flair! This rustic leather sofa is made in the USA and can be customized.
Made in the USA
Sustainably Made
So many great features
This American made top grain leather sofa is unique in its leather combination – featuring tooled designer leather, as well as curved seating. This curved conversation sofa is perfect for any rustic home, traditional home, or lodge! The four-seater leather Laredo sofa provides plenty of space to spread out and the leather is all 100% full top grain for maximum durability & comfort!
Customize this piece
Choose from the design options below and we'll send you a quote.
Disclaimer: Selecting a custom piece means that an item is made to your specifications. Because of this, every one of our custom orders is final. At Mountain Top Furniture we pride ourselves on using natural materials such as solid wood and leather. Natural variations in character and coloration do not mean a piece is defective, only that it is natural and unique. Colors may appear differently on your screen than they look in person. Please consider this when customizing furniture. All custom orders must have details approved by the customer and are final. Please contact us if you would like to see our full custom order policy. Sunbrella® image(s) provided by Glen Raven, Inc., owner of the Sunbrella registered trademark.
We're in the process of building a cabin and so glad we found Mountain Top! This is the most incredible store I've ever been in. So many choices! Everything they have is the best built furniture that will last many years to come. We've been working with Meg as our consultant and she is absolutely wonderful. We're so fortunate to have had her as part of our new adventure.
It can be an overwhelming task furnishing an entire cabin, but Meg made it fun and easy. She has to be the most patient person I've ever dealt with in a situation like this. I've called to ask "one more question" about 10 times now and she's always eager to help…and always has the answer. We feel very blessed to have found Mountain Top and Meg. It's been an enjoyable experience and we could spend hours looking around in the store. The store has such a great friendly feel to it from the moment you're greeted at the door. We can't wait to have our cabin completed and see a dream become a reality. Thank you Mountain Top and Meg!
My husband and I visited Mountain Top furniture looking for a dining room table and chairs. I always wanted a live edge table and this furniture store had 'exactly' what I was looking for. High quality Amish made table tops with a wide selection with options for length, chairs and table legs. I worked with Rachel Hill who knew the products and answered all my questions. She communicated by phone and text messages and was always quick to respond. She also followed up on scheduled deliveries and after all furniture pieces were delivered. Customer service was tops!!! I have already recommended this store to friends and I plan to return and shop for outdoor furniture. If you're looking for furniture be sure to visit their showroom.